Company Profile
Contact Information
Contact: Matthew Key
Title: Director of Sales
Phone: 714-250-7501
Toll Free: 800-708-8463
Location
First American Data Tree
4 First American Way
Santa Ana CA 92707
United States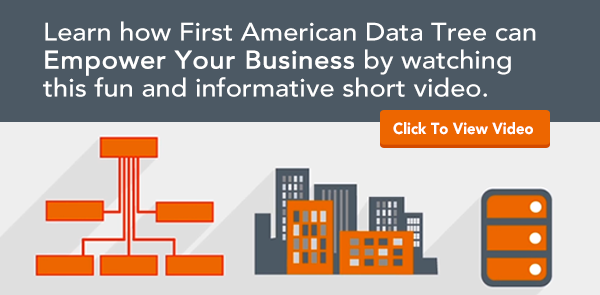 First American Data Tree provides the real estate property data that empowers businesses and organizations to make informed, data-driven compliance, risk and business decisions. With property data coverage that spans 99% of the US population, Data Tree offers the real estate data and solutions that enable confidence in your decisions. From our custom data solutions that delivers - precisely the data you need, exactly how you need it, or custom match and append data - to make your in-house data better, or through DataTree.com where we make self-service property data and document image retrieval fast and convenient – Data Tree is ready to put our data to work for you.
DataTree.com Advantage
DataTree.com provides instant online access to the detailed data you need to verify property information, evaluate trends and prospect for new business. DataTree.com and Data Tree Mobile connect you to one of the nation's largest property information databases, covering 99 percent of the US housing stock and containing more than 5.3 billion land records collected directly from the source. With DataTree.com, searching and acquiring property data, document images and homeowner information is easier and more convenient than ever. How easy? Take a test drive and see for yourself.
Property Reports
Turn property data and homeowner information into insight and action with Data Tree's comprehensive property reports. You can choose the report that provides the in-depth data you need to make smarter, more informed business decisions – either directly from DataTree.com or through our professional services team. Gone are the days of searching multiple sources and lagging government websites. Data Tree has a nationwide, easily accessible repository of the property data, property reports and document images you need to quickly and confidently get your job done.
Document Images
Leverage DataTree.com's convenient one-click search tool to instantly locate and order last transfer, last finance, and assessor map document images from our growing database of over 5.3 billion document images. You can also expand your search to include a voluntary lien search which includes assignments, releases and foreclosure information. You will be able to quickly navigate within a multi-page document and find the information you need – fast, with the convenient thumbnail view option. DataTree.com also includes a variety of maps, including assessor, grid, parcel, plat, record, road, subdivision, town site, and tract maps. Elevate your land record document and image search. Test drive DataTree.com and see for yourself.
Professional Services
Data Tree's Professional Report Services team will go to extraordinary lengths to retrieve the property data you need, including conducting exhaustive searches of multiple external databases, county resources and our nationwide field research network. The data that is gathered is then delivered in several standard report formats, making the data easy to consume within your workflow. Our team of data experts is also ready to create a custom data solution designed to meet your needs. Let's start a conversation about how our data and team of data experts can create the perfect solution for your business.
Back to Listings